Living in Philadelphia has its perks, not least because of the range of natural, recreational, and historical attractions and amenities located directly within the city.
However, while Philadelphia has plenty to offer on its own, sometimes you need to get away for a weekend with your family or friends. As the winter approaches, you may be searching out nearby cities and areas to visit for a nice mini-vacation in the coming months.
That's where Philadelphia homeowners are also in luck. Within a roughly two-hour radius, there are numerous sites and attractions around which to plan the perfect weekend trip for you and your family.
Places Near Philadelphia to Visit
The Philadelphia area is famous for its gorgeous scenery, distinctive cuisine, standout companies, and rich American history. But did you know that the area also boasts many family-friendly summer activities and winter vacation destinations? Today, we're highlighting ten of our favorite winter weekend trips.
1. The Poconos Mountains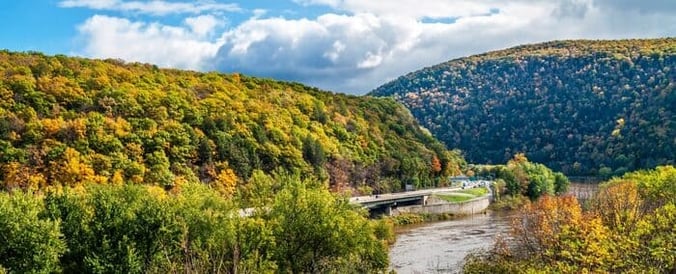 The Pocono Mountains are one of the most famous winter attractions in PA and with good reason. From resorts to hotels to cabins and cottages, you'll have plenty of opportunities to design your ideal winter getaway. Favorite winter activities include skiing, snowboarding, snow tubing, snowmobiling, snowshoeing, ice fishing, and even taking a ride on a sleigh or a dogsled! One of our favorite places here is Jim Thorpe. Nestled in the Pocono Mountains, it is a perfect getaway if there ever was one. Jim Thorpe is a Victorian-styled town that has preserved its history ever so wonderfully. From the Lehigh Gorge Scenic Railway to the Bear Mountain Butterfly Sanctuary and Old Jail Museum, Jim Thorpe is the perfect PA weekend getaway for families.
If you find yourself missing the golden days of summer, try staying at Great Wolf Lodge in The Poconos. Here you can enjoy the best of both seasons, from scenic snow-covered views of the mountains to a massive indoor waterpark with four-story tandem tube rides, a four-story waterpark treehouse, and much more.
2. Cape May, NJ
Hear the ocean calling your name? You can't underestimate how beautiful the Jersey Shore is, even during the winter months. In particular, Cape May is a fitting destination for a midwinter sojourn. Considered America's original seaside resort, as well as New Jersey's crown jewel, this lovely destination is known for its grand Victorian houses, quaint shopping district, and historic Cape May Lighthouse that was built in 1859. The three pedestrianized blocks of Washington Street are lined with shops and restaurants. If you visit for a winter getaway from Philly, you can beat the lines and enjoy the relatively quiet beach with your family.
3. Valley to Summit Ice Hiking
Outdoor lovers will be thrilled to hear of this new winter activity featured in Philly Mag. Valley to Summit is Pennsylvania's premier outdoor guide service that offers hiking tours through five miles of iced-over trails in Ricketts Glen State Park; the trail takes you past seventeen waterfalls. There are several places to stay the night in and near the state park.
4. Gettysburg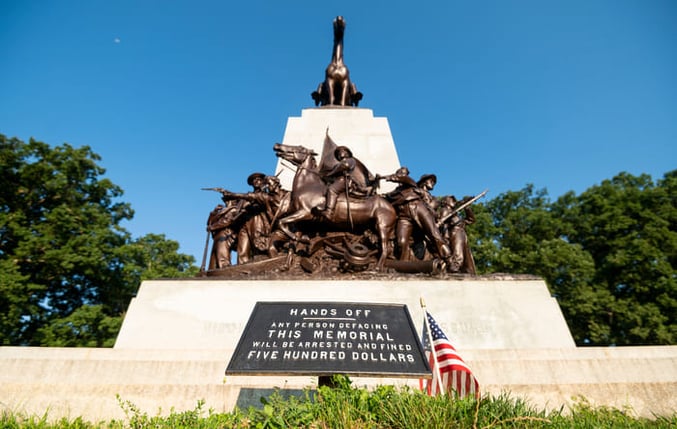 Up for a little history and culture? Gettysburg is about two and a half hours from Philadelphia and is renowned as the home of Gettysburg National Battlefield, Gettysburg Museum, and Visitor Center. In terms of historical appeal, there's also the Jennie Wade House, Shriver House Museum, David Wills House, and other historical sites and attractions. However, you can also do other enjoyable activities as a family, such as trying out one of the local escape rooms or going to Hickory Falls Family Entertainment Center. For outdoor recreation in nearby Gettysburg, stop by the Michaux State Forest for a hike or cold-water fishing. The Liberty Mountain Resort in neighboring Carroll Valley also offers skiing, snowboarding, and ice skating.
5. Hershey Park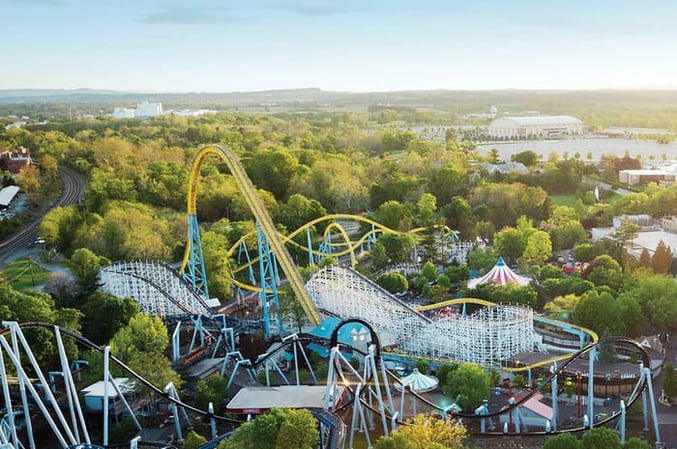 Hershey Park, located in Hershey, PA, is about 95 miles west of Philadelphia. Founded in 1906 by Milton S. Hershey, this family theme park was originally designed for the employees of the Hershey Chocolate Company. When you visit in winter, you can catch the merriest event of the year: Hershey Park Christmas Candylane. Enjoy your favorite rides, coasters, and other activities surrounded by more than five million twinkling lights. Explore the all-new Hershey's Chocolatetown, with the park's largest rollercoaster. While you're there, check out the Hershey Story Museum.
6. New York City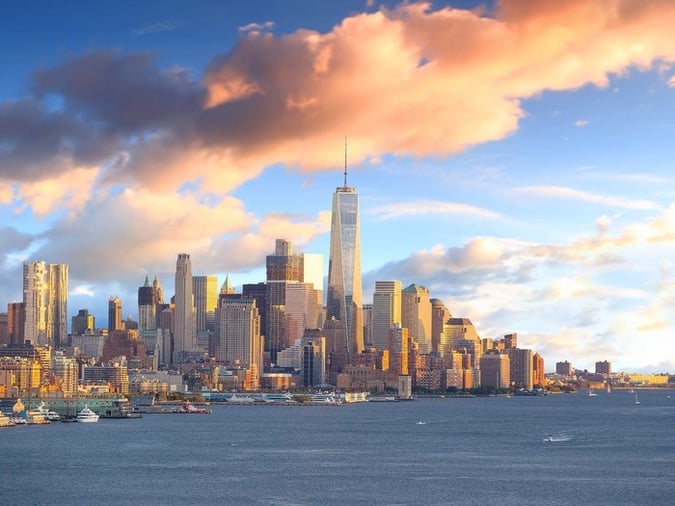 New York City is stunning during the winter when you can go ice skating beneath the giant tree at Rockefeller Center or go sledding at Central Park. Many of the shops also have beautiful window displays for the holidays. Getting to NYC from Philadelphia takes about two hours by car, or you can travel by bus or train so you don't have to deal with parking in the city. If you dress warmly and prepare for the weather, you can have a wonderful weekend getaway with the family in NYC. Plus, there are plenty of museums, shops, entertainment venues, and other attractions to enjoy inside out of the cold.
7. Ocean City, NJ
An affordable and kid-friendly spot, Ocean City is one of the best spots you can take the family to for a quick weekend trip! Your many options include a stroll along the scenic boardwalk or even partake in some of the carnival rides! The winter months will be a lot less packed, making it a great spot to create some memories while avoiding the crowds!
8. Strasburg
Strasburg, a historic town nestled in Lancaster County, about an hour and a half from Philly, makes for another fun winter weekend vacation. You can experience some of the best ice creams in the country at the Strasburg Creamery in Centre Square. The Strasburg Rail Road offers activities for children all year long, including the Lego Building Zone in Stewart Junction, the museum's education center. The Dutch Wonderland theme park is also located only about 5 miles from downtown Strasburg.
Read our sister blog with information about Strasburg's steam train and maize-maze attractions (See attraction #4)!
Trips That Are a Little Farther Away
Here are a few bonus trips that are well worth the drive!
9. Cultural Trip to Pittsburgh
If you're looking for a culturally enriching weekend getaway, it may be time to take a trip to Pittsburgh. Pittsburgh offers something for the whole family, from displays at the Carnegie Museum of Art and The Andy Warhol Museum to interactive exhibits at the Children's Museum of Pittsburgh and spectacular views at the famous Holiday Magic Winter Flower Show and Light Garden at Phipps Conservatory. Be sure to book your tickets in advance!
10. National Harbor, MD
This destination is great for families who don't have plans for Christmas week itself. With acres of twinkle lights, showings of beloved Christmas films, and activities like gingerbread decorating and ice bumper cars, Gaylord National takes Christmas seriously. Reserve your room and book a trip your kids will be sure to love!
Creating a Life and Home in Philadelphia, PA
There are plenty of reasons to live in Philadelphia, including job opportunities in various industries, affordable housing, and a top-notch arts and culture scene. When you need a change of pace, the region features numerous interesting and inviting destinations to visit. However, you also want to make sure you have a desirable home base to return to. If you're looking to remodel your existing home or expand it for the next phase of life, Bellweather Construction can help. We specialize in high-quality design-build projects, from room additions and basement finishing to kitchen and bathroom remodeling, that enhance the function and long-lasting appeal of your Philadelphia home.
Book Your Stay Now
No matter which weekend trips near Philadelphia appeal to you, be sure to book your tickets for lodging and activities in advance. The winter season is a busy time of year for many of these destinations, and in some instances, tickets are limited due to COVID-19 restrictions. It's never too early to begin planning your Philadelphia area weekend trip!